Small Batch | Indigenous Made
Reimagining the pottery and bone tool patterns of my ancestors for modern home decor.
Shop our limited edition Aabinoonjiins (baby) Collection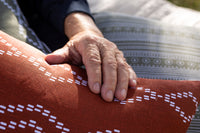 Our History
For thousands of years, Indigenous peoples in Manitoba, including my Anishinaabe ancestors, created beautiful patterns to adorn their pottery collections and host of bone tools. The Indigo Arrows line picks up where my ancestors left off.
Learn More
Our Products
Sustainably designed and handcrafted in Winnipeg, Manitoba, we work with high quality linens and non-toxic inks.
Shop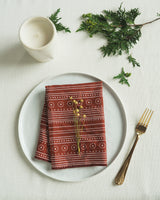 Client words
The beautiful Indigo Arrows pillows and linens have added not only the visual delights of these classic patterns, but also feelings of wisdom and strength from the traditional patterns printed uniquely on each piece.
They add so much warmth and character to our living and working space.

Clara Hughes